Issues Commonly Left in Mount Vernon Homes by Water Damage
3/20/2023 (Permalink)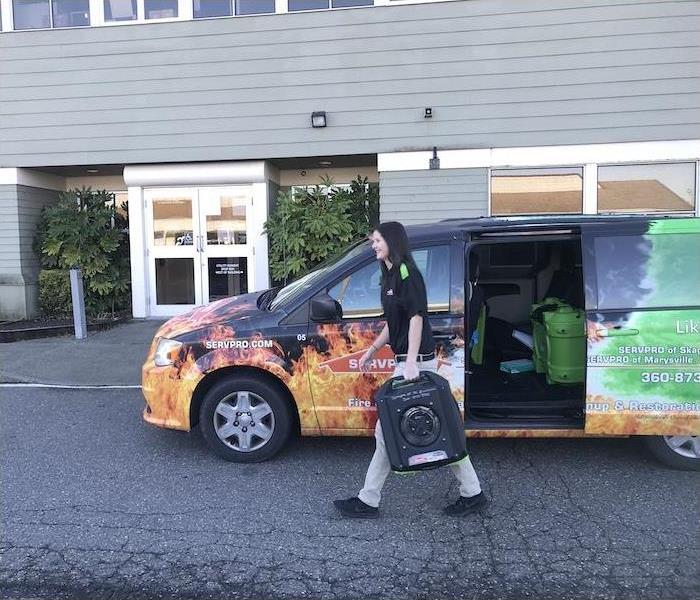 We are available 24/7 in Mount Vernon and understand that getting equipment on-site to begin the water damage remediation process is crucial.
SERVPRO Safely Manages Vernon Water Restoration Routines
Various problems crop up when water intrudes and spreads all over a property. The issues range from minor to complicated ones requiring significant action to address. Luckily most of the problems left in your Mount Vernon home are reversible, so timely action can help salvage your property from water damage.
One of the most crucial aspects of responding to the challenges in your Mount Vernon home after water damage is possessing the proper knowledge. If you understand all the damages likely to develop after a water intrusion, you can prepare the resources to counter them. SERVPRO plays a critical role in preparing the homeowner to address the problem and providing the resources necessary to facilitate restoration.
The damages moisture causes:
Moisture accumulation
Structural deterioration
Odors
Mold development
While many of the issues may seem minor, they have a significant impact. For instance, moisture accumulation is not considered a substantial problem since, once dried, most materials are fully restored. However, you cannot use furniture, carpets, or beddings when they are waterlogged. Odors are also common in a property affected by water intrusion, but it is easy to dismiss them since they are not physical. However, staying in a house emitting a strong stench is not comfortable.
The Severe Problems from Wetness
Physical deterioration of items and structural areas is the primary concern after water intrusion since restoration under such circumstances requires elaborate procedures. Typical forms of deterioration in items include swelling of wooden parts in furniture and loss of strength along the joints as glues or cement weaken. The problems involve rotting or warping for solid wood while composite materials delaminate or crumble for structural areas. In most cases, the only solution to such issues is a replacement of the affected materials. Even making a replacement is not easy since it requires teardown and perfectly fitting in new materials.
The other category of severe physical deterioration is mold development which is possible if the heightened moisture levels inside the structure are not addressed within the first 48 hours. Mold is a form of life that consumes organic materials to support itself. If the colonies are left undisturbed on surfaces for long, their root-like hyphae penetrate materials causing rot-like damage. Mold also destroys finishes.
Water damage solutions:
Expedited and thorough water extraction
Sustained evaporation
Balanced humidity control
When water is spread out all over a property, you might not understand its volume. After you start mopping it out, you might notice that every section you wipe is quickly replenished. Our SERVPRO technicians use vacuum extractors which can be portable or truck-mounted, thus simplifying the process. The efficiency of an extractor is based on its vacuum lift capacity. Having an integrated storage unit is also essential for the better management of wastewater.
After dealing with the stagnating water, the next crucial stage of the restoration is managing the moisture absorbed by materials. Improving evaporation rates helps dry wet structural areas and contents. You probably open windows after dealing with a small leak to air the house. For major incidents, airing might not be sufficient. Our SERVPRO technicians set up several air movers and a couple of dehumidifiers. The two sets of equipment work in tandem with air movers releasing moisture trapped in materials into the air while dehumidifiers extract it from the air.
SERVPRO of Skagit County can help you manage any problem from water damage. Call us at (360) 873-8744. We're Faster To Any Size Disaster.